All Contents of www.littleforkers.com, The Little Forkers Webcomic and The Forkin' Odyssey, are Copyright 2010-2012 Tess Cooper. 

Special Report:  Part 1

Mouseover panel 1  and 3 for a surprise ​Little Forkers  was at the NC Comicon last Saturday.  Thanks so much to everyone that came by and saw us.  You can check out the video from all the fun below:

You can check out more of our pics on our Facebook page 
here.
 So, if you have been thinking:    Y U No update last Saturday?  I have not only been going to 3 cons in 4 weeks with my girls  (losing the lead I had built up), but I have also been trying to get the next two issues of the Forkin' Odyssey to the printer and finish my gift book.   Not to mention, Amber and I went to see  Falling in Reverse in concert and, for lack of a better way to put it, they forkin' rocked.  :)  Did you just think, "What the Fork?  She listens to screamo?"  I actually listen to about every kind of music you can imagine.  I listen to everything from Leonard Cohen to Psy to Metallica.  I will have to admit that I was very happy to discover a new band at this concert: 
Enter Shikari
.  If you like Dub Step and HEAVY metal, you will like it too.  :)  They also have a great message.  
I cannot wait to finish my gift book.  It is going to be so amazing.  OK, just because I cannot hold it back anymore,  here is the forkin' cover (more info next update):

  The Mayor has called an urgent press conference of his administration at this unusual hour of 3:10 A.M., and there is a lot of speculation as to the "important announcement" his press secretary has alluded to all night. FORX News takes you now to Muffy Derriere at City Hall for live coverage of the Mayoral address.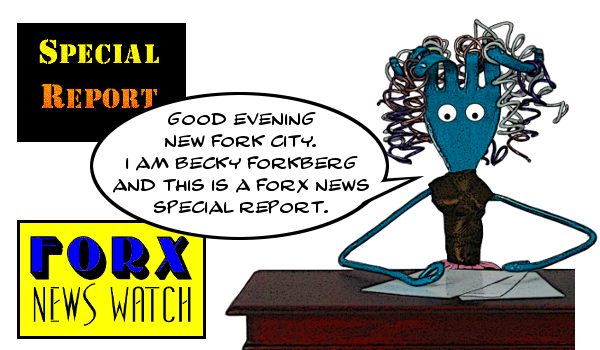 Thank you so much Becky. I am standing in this crowded City Hall Press Room waiting for the Mayor to come out in the next few minutes. His closest advisers say he has been putting the finishing touches on his remarks that all of New Fork City is awaiting. ... oh... I believe he has just arrived...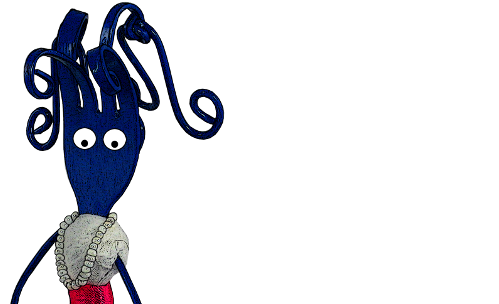 Good evening my fellow New Forkers. Rather than tiresome preamble and unnecessary exposition, I would like to simply share some joyous news with you and announce my engagement and forthcoming marriage to my third wife Valeria Violeta Forkula. Lillith Loredana Forkula and Anastazia Antoinette Forkula are both as excited as I am to welcome Valeria as our newest blood relative.